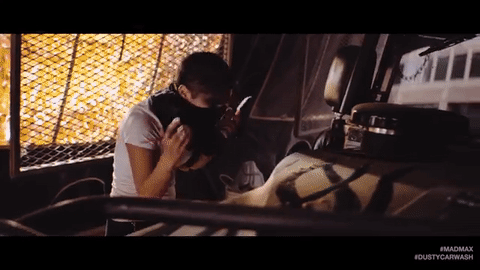 While it may be old news, late is better than never. Prior to the release of the new Mad Max: Fury Road release, my sister – Elysse Melo – and I were tasked with transforming cars off the streets of Toronto into Mad Max inspired dusty works of art.
I designed and made the graphics for set decor, installing and accenting the set with custom crafted props.  The whole day would have been a flop had it not been for a few clever decisions in our planning stages.
The intent originally was to fill squirt bottles with vegetable oil, and lightly coat vehicles so that SFX dust could be sprinkled onto the vehicles. We settled on pressurized cans of canola oil cooking spray. Pre-filled and consistent, the cooking spray cans were ideal for fast and controlled application.
Sprinkling the dust was wasteful and left an uneven layer which was difficult to work with. Throwing the paper-dust at the oil-covered car worked better still, and so an idea was born.
Drawing from my knowledge and background working with air brushes, I designed and built a custom dust cannon. Our first prototype was a simple water bottle with a dip straw and air inlet in it's side. Slow to fill, and easily jammed – it proved the concept, paving the way for version two.
The new dust cannon was not only a huge improvement in speed, but also efficiency as well. With a multi-valve setup and shop compressor – my tool was ready to make mini dust storms on queue. It looks pretty cool too.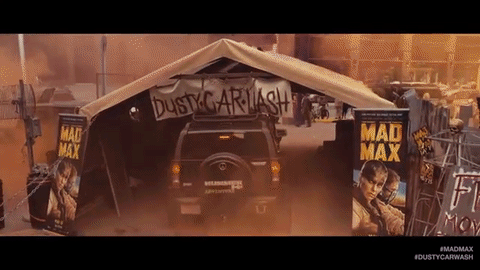 Here's the SFX dust cannon, made of ABS and copper:
To further speed the project along, I partnered with DWS Creative Imaging to craft a set of stencils and other tools to speed up the dust-painting process. With my direction, we were able to exceed all expectations – decoration far more cars than previously thought possible.